Into Virginia from the North 1861
Invasion Corridors
In 1861, Federal Troops entered Virginia by four primary routes:
From Washington into Northern Virginia

By water to the peninsula between the James and York Rivers and toward Richmond

From Maryland into the Shenandoah Valley

From the Ohio River into Western Virginia.
In 1861, Virginia stretched all the way to the Ohio River. Union victories in the western part of the state resulted in West Virginia becoming a separate state, one that supported the Union. The main sites of these battles can be seen in the Kanawha Valley Tour and the Grafton to Camp Allegheny Tour.
On the Romney to Delaplane tour we explore the Northern Route in which the Union crossed the Potomac from Maryland into Western Virginia.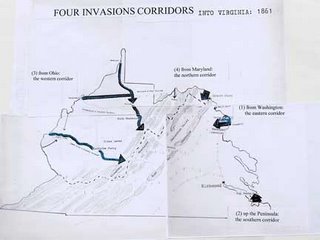 Dr. Poland's book The Glories of War provides a thorough description of the 1861 struggle for western Virginia.
Lee vs. McClellan: The First Campaign by Clayton Newell also covers this interesting campaign.


Visit my Civil War book store