Raiders and Rangers / 319 Obelisk
Photos by Linda Walcroft
NVCC Advanced Civil War Class
www.civilwarfieldtrips.com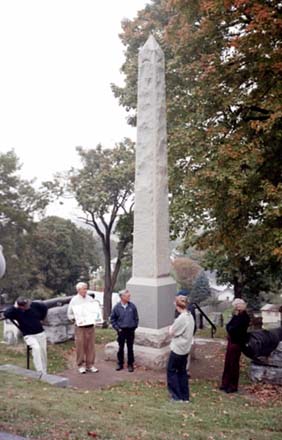 Remembering six of Mosby's men who were executed by Union forces.
Monument in Prospect Hill Cemetery, Front Royal, Virginia:
"In Everlasting Honor of Thomas E. Anderson, ______ Carter, David L. Jones, Lucian
Love, William Thomas Overby, Henry C. Rhodes, Albert C. Willis
43rdBattalion, VA Cavalry
Mosby's Command, C.S.A."
The monument was dedicated in 1899. A Richmond Times article said
"The reunion of Mosby's men at Front Royal, September 23, 1899, was in every respect one of the most satisfactory events of the kind that ever occurred. The special event to be celebrated was the unveiling of a monument to six of Mosby's men, who, while prisoners of war, had been shot or hung in the streets of Front Royal by the Federal troops on the 23d September, 1864, and to another Mosby man, A. C. Willis, who was soon after hung by Colonel Powell, U. S. A., in Rappahannock county, Va. "
Next