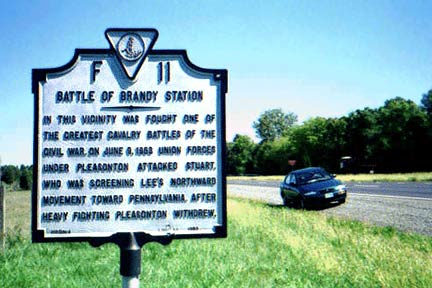 Historical Marker on U.S. 29, Brandy Station, Virginia.
BATTLE OF BRANDY STATION
"IN THIS VICINITY WAS FOUGHT ONE OF THE GREATEST CAVALRY BATTLES OF THE CIVIL WAR. ON JUNE 9, 1863 UNION FORCES UNDER PLEASONTON ATTACKED STUART, WHO WAS SCREENING LEE'S NORTHWARD MOVEMENT TOWARD PENNSYLVANIA. AFTER HEAVY FIGHTING PLEASONTON WITHDREW."